SFCM TAC Alumni—Behind the Scenes
June 2nd, 2018 Playback page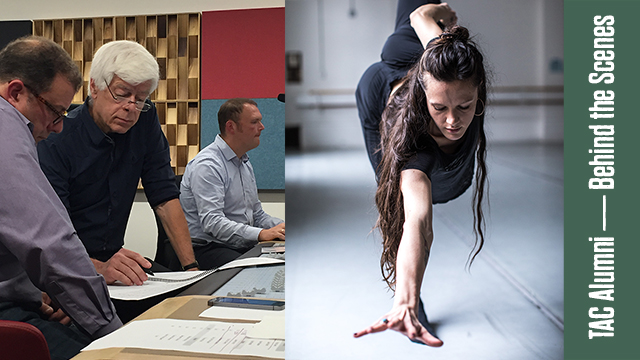 "TAC* Behind the Scenes": Took place June 2, 2018 8:00pm at San Francisco Conservatory of Music.

A look at writing music for dance, film and virtual reality. You'll see how a choreographer works with dancers to develop a short work; excerpts from films we've scored, and how the process works; and you'll see and hear how music is created for Virtual Reality [VR] games. Admission is free.
*TAC is "Technology and Applied Composition" at SFCM
---
Recordings

This was a two-hour performance of works by five composers, and it takes a while to hear all of them, so feel free to view the one(s) you want to play, and then come back later for more.
Introduction
Daniel De Togni & Anthony Cianciolo — The Jerome Project
Niko Korolog — Nocturne in G minor
Niko Korolog — Virtual Reality Found
Khala Branningan — Choreography
Daria Novo — Lullaby
Sky — Excerpts from Beings of Light and Darkness
Sky — Dakini Dances #3
Composers and Choreographer
Compositions by
Sky" (Jim Schuyler)
|
Daria Novo
|
Costas Dafnis
|
Daniel De Togni
|
Niko Korolog
Choreography by
Khala Brannigan
Musicians:
Anju Goto
, violin;
Federico Ramirez
, cello;
Anna Aistova
, soprano
Dancers:
Claire Fisher
,
Katie Meyers
,
Sydney Franz

With
Anthony Cianciolo
, director |
Inna Malygina
, sand animation
---
---
Daria Novo
Daniel De Togni
"Sky"
Khala Brannigan, Choreographer
Tonight's Choreography: Khala Brannigan, a native of Santa Fe, New Mexico began her training with Moving People Dance Theatre under the direction of Ronn Stewart and Layla Amis. Brannigan is a LINES Ballet Training Program alumna of 2011-2013 and and since graduating, she founded Brannigan Dance Works. As a choreographer, Brannigan has formerly collaborated with local opera singers, musicians, visual artists, video designers and more. Her work has been included in West Wave Dance Festival, Summer Performance Festival, San Francisco Dance Film Festival and SF International Arts Festival. As a dancer, Brannigan is currently working with Robert Moses' Kin.
---
The Trailer

Help fund the performances
Music makes a difference. And we support writing music. In many ways.
This project provides direct support for collaborative creation of music by emerging composers, including its staging, filming, video, live performance and recording. Admission to public events funded by the project is always free.
Funds you give here are used directly to pay musicians, dancers, choreographers, composers, venue, and the stage and tech experts for the public performances. The program is sponsored and administered by skyHi Digital, which fills the gap between what we raise and what we spend on these performances.