---
»
Home
»
Film Scoring... Oct 2021
»
Film Festival... Nov 2019
»
Imagine This... May 2019
»
Sound and Image... Oct 2018
»
Behind the Scenes... June 2018
---
»
SkyHi Award @SFCM
»
skyHi Digital
SFCM TAC Alumni—Sound and Image

October 13th, 2018
Playback page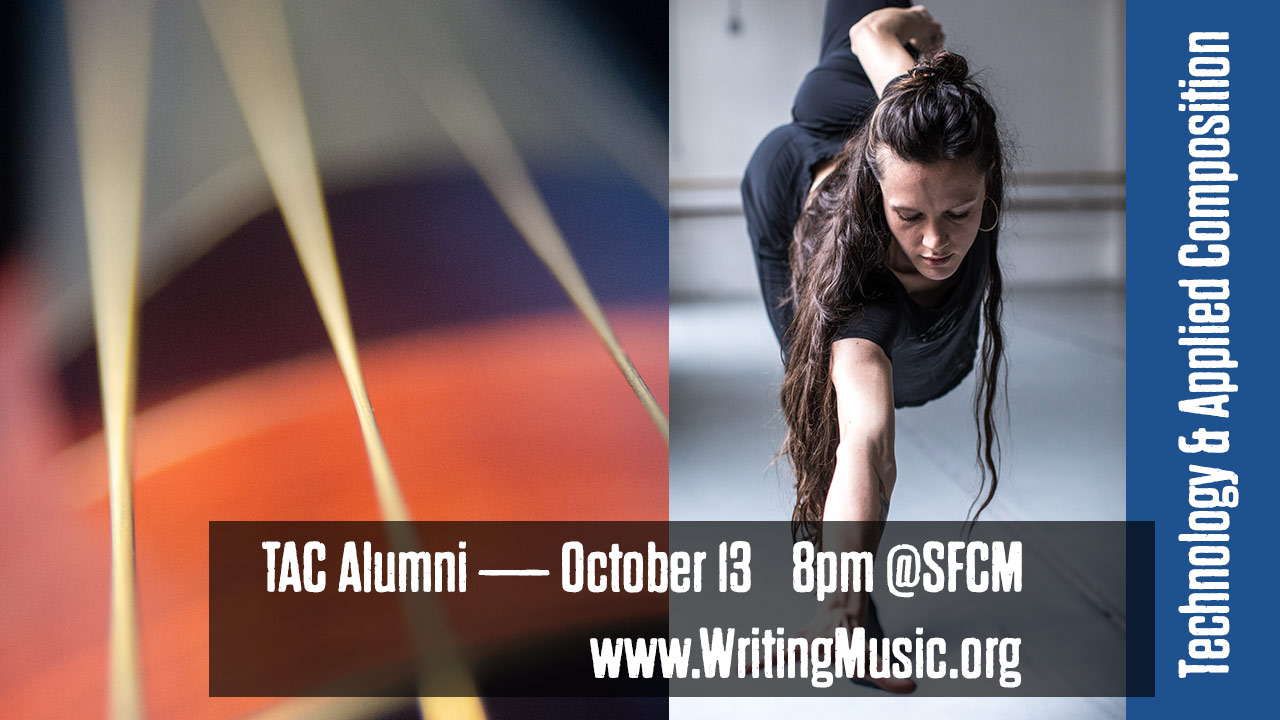 "Sound and Image" combined instrumental music by working composers using sonic textures, live musicians, dancers and visuals. Music by SFCM alumni Costas Dafnis, Kyle Randall, Daria Novo, Daniel De Togni, and "Sky." Choreography by Khala Brannigan.


*TAC is "Technology and Applied Composition" at SFCM
---
Recordings


Composers and Choreographer
Compositions by
Sky" (Jim Schuyler)
|
Daria Novo
|
Costas Dafnis
|
Daniel De Togni
|
Kyle Randall
Choreography by
Khala Brannigan
Musicians:
Chelsea (Tin-Yi) Wong
, piano;
Sam Weiser
, violin;
Maria van der Sloot
, violin;
Justine Preston
, viola;
Evan Kahn
, cello;
Jonathan Szin
, clarinet;
Jessie Nucho
, flute;
Katie Lynn Baker
, soprano;
Anna Aistova
, soprano
Dancers:
Khala Brannigan
,
Claire Fisher
,
Katie Meyers
,
Nathaniel Moore

Book and Libretto for The End of the World:
by Zann Gill
;
visuals by Seana McNamara Oliver
Video backdrop for Unlikely:
by Christian Zamora
---
---
Bones

—
by Khala Brannigan

Includes...
Rumors & Evidence— "Sky";
Unlikely— Daria Novo;
Weather Veins— Costas Dafnis


Bones
Tonight's Choreography: Khala Brannigan, a native of Santa Fe, New Mexico began her training with Moving People Dance Theatre under the direction of Ronn Stewart and Layla Amis. Brannigan is a LINES Ballet Training Program alumna of 2011-2013 and and since graduating, she founded Brannigan Dance Works. As a choreographer, Brannigan has formerly collaborated with local opera singers, musicians, visual artists, video designers and more. Her work has been included in West Wave Dance Festival, Summer Performance Festival, San Francisco Dance Film Festival and SF International Arts Festival. As a dancer, Brannigan is currently working with Robert Moses' Kin. Please see the program booklet for more about the dance.
Videography: Please see the program booklet for more about Seana McNamara Oliver and Christian Zamora, who produced video backdrops included tonight's performance.
Book and Libretto: Zann Gill create the book and libretto for "The End of the World" for which I Lost the Thread and Rumors and Evidence were composed. Please see the program booklet for more.